An integrated creative approach to inspire the Australia Post workforce to become more adaptable.
Through the execution of all the creative elements for Australia Post's senior leaders' conference, Fancy Films helped to deliver an engaging, thought-provoking and inspiring event experience which ultimately led to increased belief in, and commitment to, the business strategy.
Opener
Customers
Investment
Adaptable People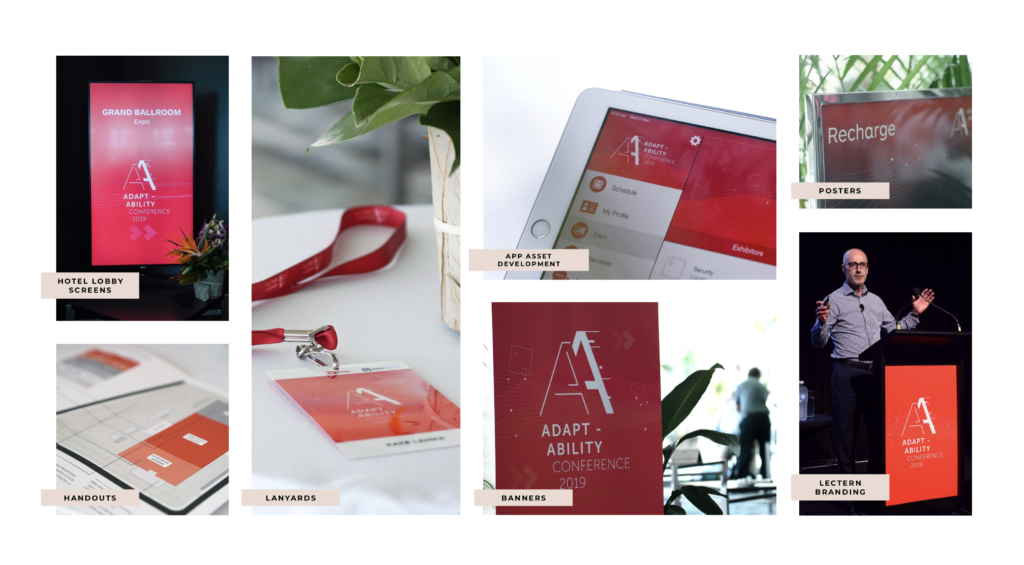 THE AUDIENCE
250 senior leaders, plus the Group CEO and Executive Committee.
Australia Post's Group Chief Operating Officer convenes an annual conference for senior leaders, held in the first quarter of the calendar year to set the scene for the top 250 business leaders across the Operations business.  These leaders are responsible for engaging a diverse workforce of approximately 30 000 people nationally across Australia.
STRATEGIC OBJECTIVES
The 2019 conference theme was Adaptability.
For Australia Post, external market conditions and competition are continuing to intensify both domestically and internationally. Changes in consumer behaviour and the ongoing growth of e-commerce are driving the organisation to innovate and adapt.
Now in its 5th year, the challenge for this year's annual conference was to differentiate it and improve on previous years which followed a similar event format and agenda.  
The 3-day program included a site visit, conference and expo.
The objective was to create a cohesive, immersive experience across the three days that clearly articulated the rationale for the organisation and its people to become more adaptable.
CREATIVE APPROACH
A holistic approach to the production of all assets to maximise the impact of creative content.
Fancy Films was engaged as the creative agency with a broad collaborative role from advising on strategy and attendee experience, through to completed branding, graphic, print, video, audio and digital content.
Our response stemmed from the intention to engage audiences on central themes and ideas beyond the business and connect them to those universal themes.  In this case the theme of Adaptability also involved the split and play on the two words Adapt and Ability. We needed to cut through the potential for audience fatigue on the business strategy and do something different so we looked to nature to inspire, to comfort and to resonate with the audience.
All creative aspects were woven in and around images and concepts of nature. We created a bespoke visual identity and combined it with a distinct, ethereal soundtrack which looped again and again as audiences moved in and out of the various sessions and different event spaces.  This provided an uplifting, branded experience and the base for other content and conversations to flow.
When selecting sound grabs, we chose metaphors like "adapt or die", to enhance the feeling that we could all connect to these ideas. This empowered the audience with a sense of their own humanity and nature, executed across the experience. 
All the live and digital elements were developed to work together, contributing to the integrated and immersive experience.
The content highlighted Australia Post's strengths from a customer-centric viewpoint, provided business updates on critical programs involving automation and innovation that are designed to improve the customer experience as well as internal productivity and efficiency of their network.
We worked together to ensure the content contributed to the theme of adaptability, producing video assets and collateral that would be used to engage a broader, national audience throughout the remainder of the year.
DELIVERABLES
We delivered a creative strategy and produced more than 200 individual assets that maximised engagement, contributing to the fulfilment of the strategic objectives.
This included:
Advising on event strategy and delegate experience

Branding and visual identity

Video production

Graphic and digital production

Event collateral design

App design

Exhibition content and design
EXECUTION THROUGH COLLABORATION
A key part of our approach is our collaborative process.
As a creative content agency, Fancy Films is more than a production company.
Our foundations in journalism, advertising, film and corporate communications enables us to offer a unique understanding of how to create authentic and engaging content.
Our open and flexible style was key to the success of this project and we worked in collaborative way with multiple members of the Australia Post team – ranging from the C-suite executive sponsor, the Project lead, the internal communications team, event management team as well as liaising with other external suppliers on behalf of Australia Post to ensure the best outcomes. 
Our expertise lies in understanding the complexities of strategic engagement as well as working with multiple stakeholders.  We relied on our tried and tested production process which is designed to integrate seamlessly with our clients, including using cloud-based platforms for reviewing, approving and collaborating in real-time.
Paul Hersbach, Head of Growth Products 
 "Fancy Films became an extension of our internal team – they kept us involved at every step of the way, introducing us to real-time collaboration tools that really enabled us to work together to make decisions quickly."
RESULTS
Approximately 250 senior leaders plus Group CEO and Executive Committee in attendance.
Delivered 15 videos, 30 minutes of video content | shooting in 9 locations across Australia over 7 days
98% of attendees rated the expo content very valuable or extremely valuable.
Attendees were surveyed following their experience at the conference and expo to establish their perception of the organisation's adaptability. Based on Net Promoter Score (NPS) methodology and as a direct result of the conference, attendee NPS shifted to +68, indicating a significant improvement in internal promoters (loyal enthusiasts).
Bob Black, Group Chief Operating Officer, Australia Post Group.
"Since working with Fancy Films over several years, we've continued to create highly-engaging experiences for our senior leaders at our annual conference, consistently improving our results and impact, year after year."