15 Sep

Fancy AGM: Mount Buller

Our inaugural Fancy Films AGM was held at Mount Buller and what fun we had! The location for the event was perfect and of particular significance to our boss lady Keryn Nossal and family who are regular visitors to the region. They've been skiing for years.

It's much more than skiing
Keryn had the idea of sharing her passion with the Fancy team. After all, it's a thrilling sport that brings her family together, no matter what's happening in every day life, which is important because Keryn has always been a busy Mum. For her, watching three kids overcome fear on the slopes, to later become competitors at a national level, has been really inspiring. Recently she watched her youngest son Joe do moguls alongside world champions at Perisher, all for his experience and to challenge himself. What inspired the AGM, was that Keryn wanted to share a passion for skiing with us in a way that felt right. Skiing isn't merely a trivial indulgence, over time it's anchored Keryn in winter as she's built the Fancy Films business. Fun aside, it was a huge effort transporting and feeding the team, kitting us out with gear – Keryn's nurturing side is ever present. And the trip was fantastic.

Mount Buller resort is about 3 hours drive from Melbourne. We stayed at the Collegians Ski Lodge in dorm rooms, sharing meals, peppered with wine and laughter. On the itinerary was beautiful food and drink prepared at the lodge, as well as compulsory ski or snow board lessons – Keryn insisted each team member experience the snow and understand just how difficult it is to navigate your way down the slopes, with formal lessons, even if only for one day in our lives.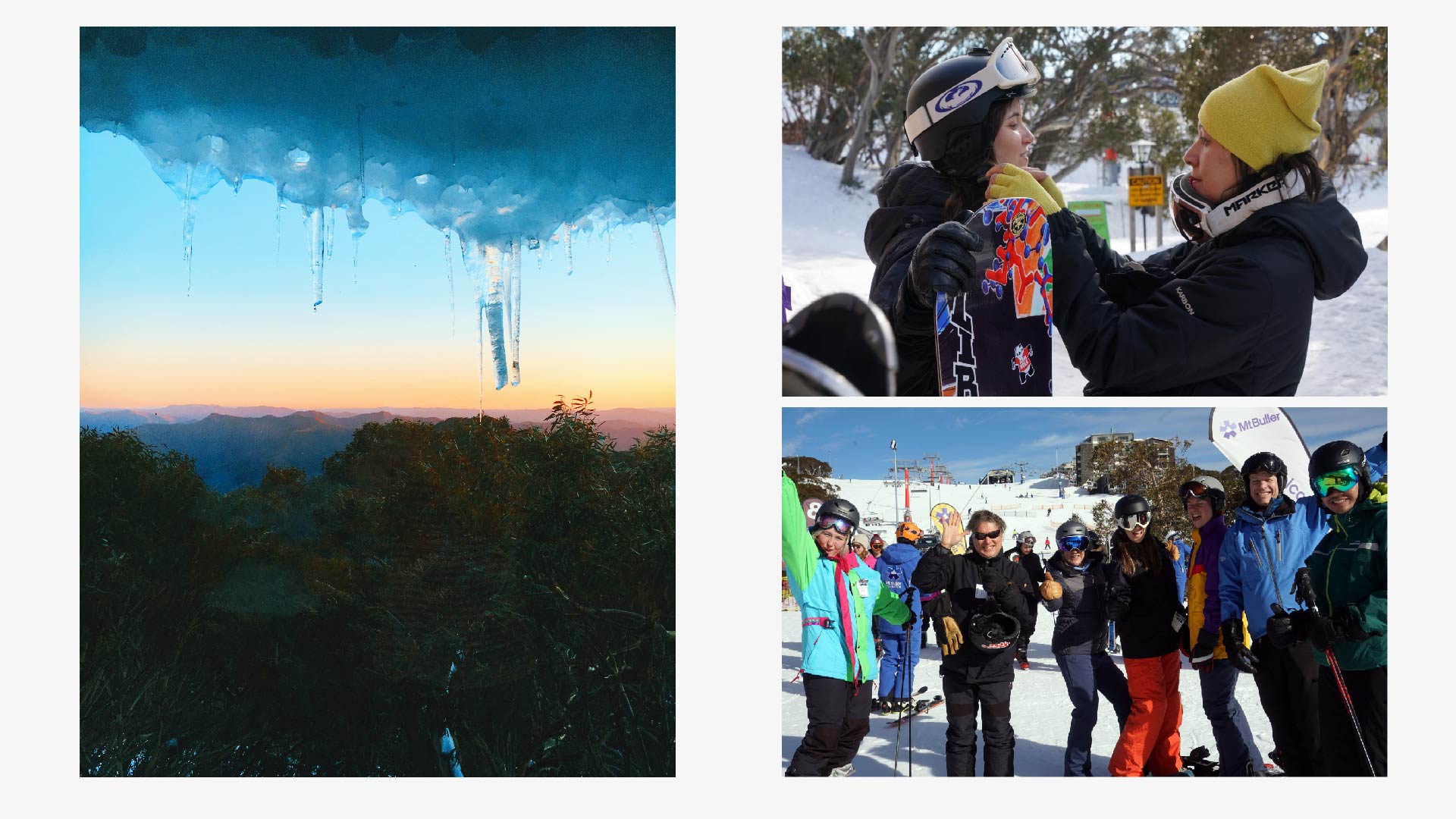 What agenda?
Though the trip felt relatively informal, to witness the team facing the mountain, facing ourselves, becoming competitive, challenged and sometimes on our backsides, was amusement enough. For Keryn, it was great to see us travelling on the chair lift and taking classes together… it really was a team building moment for Fancy. We found out that there are huge parallels you can draw between the pursuit of skiing to running a business… facing fears, getting up when you fall down, again and again, staying on track and committing to the mountain, which can be daunting. Keryn says that skiing with her family keeps her inspired and motivated to run at full kilter during Winter weeks. The thrill of it all.
Over the course of a few days, the Fancy crew with varying skill levels and steadiness on the slopes, hit the snow with enthusiasm and tenacity. It quickly became apparent that with patience and guidance, the group of first timers were off and down the mountain in no time. While an introductory lesson from ski instructors was extremely helpful, the continued, gentle guidance from veteran skiers Keryn and her husband Steve really cemented those skills, especially when we were told we had to ski to lunch.