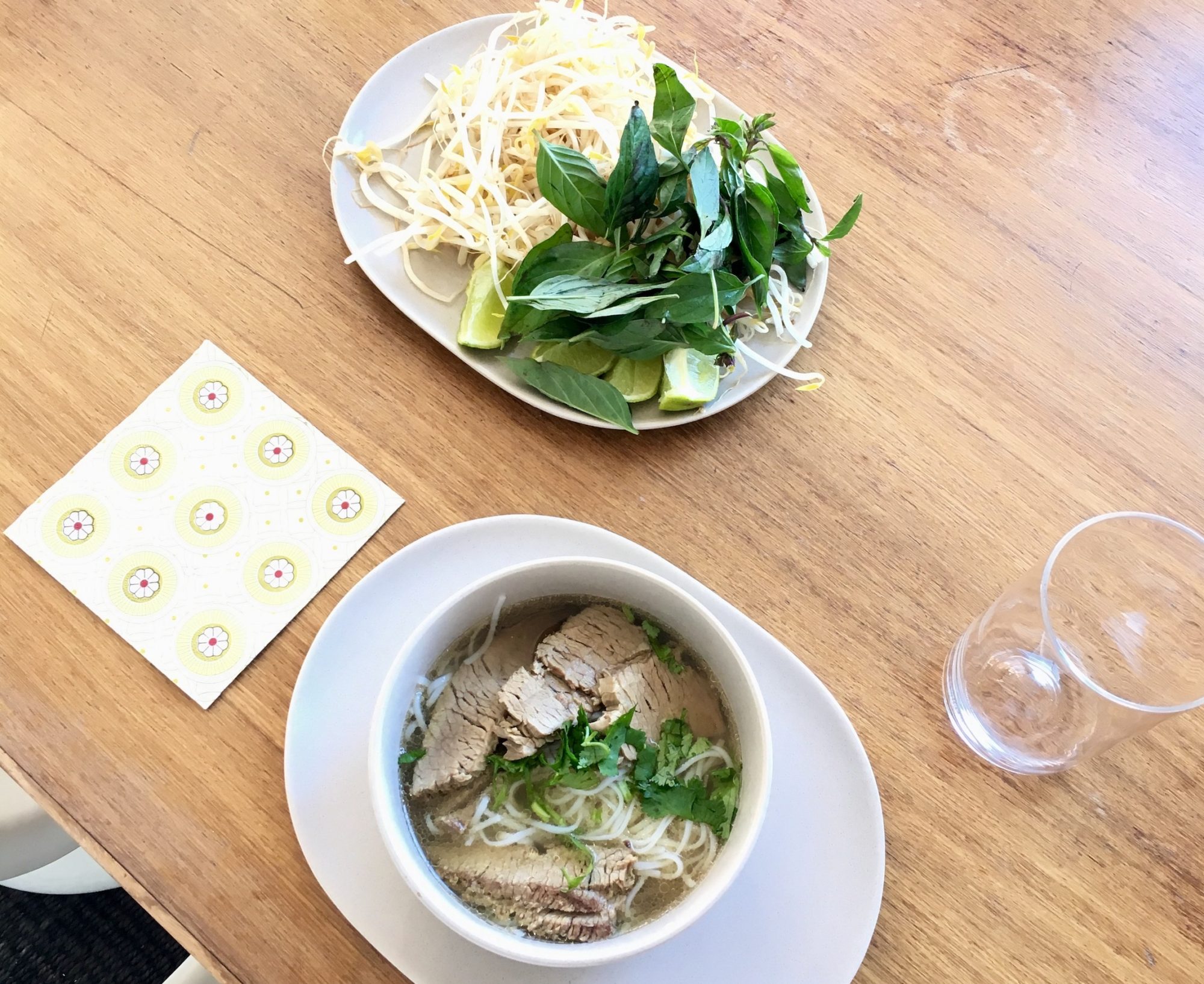 28 Sep

Fancy Friday Soup: Vietnamese Phở

Nothing prepares the body for a weekend of fun better than a warm, refreshing bowl of phở on any given Friday. My sister taught me this recipe when we were living together a few years ago. She still makes it for me now when I go to visit her.

Ingredients:
2kg beef bones
1 brown onion, peeled
2 pods star anise
cinnamon
whole peppercorns
cloves
coriander seeds
salt & pepper, fresh lime juice and sliced, fresh ginger to season
flat rice noodles (I usually have 1 x 8oz pack for 4 serves)
To serve:
bean sprouts
spring onions
fresh chilli
fresh mint
fresh coriander
hoisin sauce
siracha sauce (for dipping beef)
Method:
Soak beef bones in cold water for 10-15 mins and then clean them.
Place beef bones in 4L water with onion, star anise, cinnamon, peppercorns, cloves and coriander seeds in a large saucepan over high heat.
Bring to the boil and then reduce heat to very low.
Skim off any fat from the surface (Some people like to keep the fat to pour on top at the final step).
Cook for 3-4 hours. (tip: after 2 hours, I usually put the soup in a slow cooker overnight to get the most out of beef bones)
Remove saucepan from heat and set aside to cool.
Strain through a fine sieve into a clean saucepan.
Remove bones and remaining solids.
Place soup over high heat and bring to a simmer.
Season with salt, pepper, ginger and lime juice.
Meanwhile, place the noodles in a large, heatproof bowl and pour boiling water over the top, so that they noodles are immersed. Set aside for 5 minutes to soak. Drain well.
Thinly slice cooked beef with a shape blade.
Divide noodles and reserved beef evenly among serving bowls.
Top with sliced beef. Pour the hot soup evenly among each serving bowl.
Top with bean sprouts, spring onions, chilli, mint and coriander.